Directions to McHenry Library
McHenry Library is located in the center of campus on McHenry Service Road and Steinhart Way.
By bus:
Those arriving by Metro bus or the Campus Loop Shuttle can walk down Steinhart Way from the Bookstore/Cowell & Stevenson bus stop.
By car:
Recommended parking lot is Lot 101, near Hahn Student Services. An alternative is Lot 126, the Performing Arts Lot.
Hourly Parking: Maximum of 3 hours. Hourly parking must be paid for via ParkMobile.
Daily Parking: Visitors needing more than 3 hours can purchase a daily permit from the TAPS office.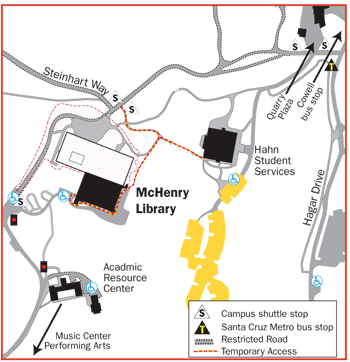 Additional information is available on the campus maps site, including the parking map and the central campus walking path map.